[Click here to go directly to the Video Segments]
On this page: Outline of Video Content | Documentary focuses on three areas | Featured in the video | Transcripts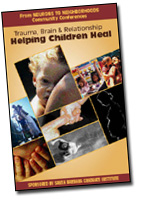 This 30-minute documentary video about psychological or emotional trauma in children is taken from interviews conducted at the From Neurons to Neighborhoods community conferences. The documentary is an overview to help those who care about children recognize, prevent and heal psychological trauma. Internationally and nationally recognized authorities who work with children and teenagers in the field of emotional trauma, including Drs. Bruce Perry and Daniel Siegel, offer new insight and information about the origins of relationship/developmental problems, as well as problems associated with PTSD later in life.
New research on the brain is highlighted, as is information about how seemingly benign incidents bring about traumatic responses in young children. A central message of the documentary is that even though psychological trauma often goes unrecognized in children, emotional trauma is very responsive to relational repair.
An outline of the documentary accompanies the video and clarifies such points as the difference between emotional trauma and emotional stress. Also available on this site are transcripts of full interviews that went into the development of the documentary.
There is no charge to view the video segments below. However, if you would like to download Trauma, Brain and Relationship: Helping Children Heal, there is a $25 fee.
Outline of Video Content
Relational trauma can profoundly affect the way children think, feel and act. Trauma is more widespread than we formerly thought with a far broader imprint than that defined by PTSD. Trauma's aftermath affects children's abilities to focus mentally, calm themselves emotionally and be aware of others. It is the source of chronic learning and attention problems, emotional and social problems and physical problems. Fortunately, all forms of trauma-including relational trauma and single incident trauma-can be readily repaired in young children.
Traumatic distress can be distinguished from routine stress by assessing the following:
how quickly upset is triggered
how frequently upset is triggered
how intensely threatening the source of upset is
how long upset lasts
how long it takes to calm down
This documentary introduces revolutionary new discoveries from leading universities and research centers throughout US and in Canada including UCLA, UCSD, UC Berkeley that help identify, prevent and heal trauma in children.
Specifically, the documentary focuses on three areas:
Introduces new awareness about the many causes of trauma in children based on groundbreaking advances in brain research. Brain scans permit us to view images of the functional disruptions caused by trauma. As a result of what we can actually see, traumatic experience takes on a vast new meaning. For the first time, we know that trauma in infants and children can be caused by any of the following disruptive neurological events that:
Happen in the womb;

Result from frightening and overwhelming experiences;

Result from conscious abuse or neglect;

Happen unintentionally in relationships with primary caregivers who themselves are traumatized, depressed or were poorly connected to their primary caregivers.
Highlights relationship as the most powerful way of healing trauma in young children. Neural repair results from having primary relationships that calm, soothe and help a child organize their experiences. This fact is also based on brain imaging research that reveals the tremendous plasticity of the brain -particularly in the first five years of life. Unfortunately, the pressure of urban life greatly reduces opportunities for the kind of relationships that prevent and heal trauma in children.
Emphasizes the exceptional opportunity to heal young children. During the first five years of life, a child's brain remains extraordinarily plastic and amenable to recovery from trauma. Unfortunately, ninety-five percent of public funds are spent on children after the age of five when it is more difficult and expensive to affect change.
Intoduction (1:40 min)
Section One: The Very First Relationship (3:38 min)
All relationships, and especially primary relationships, profoundly impact the developing brain, for better or worse. When children feel "seen," safe and supported, their nervous systems develop in a very coherent manner; but if they don't feel safe and connected in their primary relationships, their brains develop in a disrupted way.
Section Two: Brain Development at Risk (1:10 min)
A child's relationships that do not provide consistent, sensitive care, dysregulate the brain, creating experiences that are overwhelming, frightening and enraging. Many of these experiences go undetected.
Section Three: The Many Faces of Trauma (3:51 min)
Several stress responses signal trauma in young children including hypersensitive hyper-reactive behavior, hyper-vigilant behavior and shut down, tuned out behavior. The undisruptive responses of anxious and self-absorbed children are often missed or ignored. These often "quiet" or "good" children manifest problems that can be even more serious than those of disruptive children.
Section Four: Relationship Induced Trauma (2:52 min)
When the attachment figure is frightening or confusing, the child is traumatized. Most parents of traumatized children are themselves traumatized and are relationally insecure. When these parents learn to see their behavior from the perspective of the child, they can repair the relationship and heal their child.
Section Five: Healing Trauma (5:02 min)
Healing trauma in children means creating safety for the child. It also requires caregivers to become sensitive to the child's sensory reactions. When we know or suspect that a child has been traumatized, we can help children communicate their distress both with and without words. The quality of eye contact, facial expression, posture, gesture, timing and intensity of response can soothe even a child too young for words.
Section Six: You Make the Difference (5:32 min)
Early childhood trauma changes the biology of the brain, but early childhood support also changes the biology of the brain. Even when a child has a poor relationship with a primary caretaker, if that child has as few as one secure relationship with another adult, childcare or daycare provider, there is hope for healing the brain. What makes children recover from emotional trauma are other human beings who are kind, patient, sensitive and supportive.
Featured in the video are:
Bruce D. Perry, M.D., Ph.D., is an internationally-recognized authority on children in crisis. Dr. Perry is the Provincial Medical Director in Children's Mental Health for the Alberta Mental Health Board. He is also the Senior Fellow of the ChildTrauma Academy, a Houston-based organization dedicated to research and education on child maltreatment. Dr. Perry's work has been instrumental in describing how traumatic events in childhood change the biology of the brain. The author of more than 200 journal articles, book chapters, and scientific proceedings and is the recipient of a variety of professional awards. See www.childtrauma.org
Daniel J. Siegel, M.D., is a practicing psychotherapist who received his medical degree from Harvard University and is presently on the faculty at UCLA where he is an associate clinical professor of psychiatry. Dr. Siegel has published several books, including The Developing Mind: How relationships and the brain interact to shape who we are; Parenting from the Inside Out: How a deeper self-understanding can help you raise children who thrive (co-authored with Mary Hartzell); and Healing Trauma: Attachment, mind, body, and brain (Co-edited with Marion Solomon). He is also the editor-in-chief of the Norton Series on Interpersonal Neurobiology.
Constance M. Lillas, Ph.D., MFT, RN is a 2003 Zero To Three Fellow and Director, Interdisciplinary Training Institute. She is the Director of Infant Mental Health Training for The Early Childhood Center Foundation, a Training and Supervising Analyst at the Institute of Contemporary Psychoanalysis and the Newport Psychoanalytic Institute, a private practice practitioner for families with birth to five-year-olds and adults, and a private consultant. Dr. Lillas brings a synthesis of three distinct backgrounds and disciplines to her psychoneurobiological model: maternal-child nursing, systems theory; and her emphasis in development and infant research.
Presenters also include in order of appearance:
Jeanne Segal, Ph.D.
Psychologist
Marcy Axness, Ph.D.
Adoption Specialist
Jane Wheatley-Crosbie, M.S.W., LCSW
Psychotherapist
Marti Glenn, Ph.D.
Ryzio Institute
Don Dorsey, Ed.D
University Ca Northridge
B. Bryan Post, Ph.D., LCSW
Post Center for Family-Centered Therapy
Jeanne Du Rivage, MA, OTR
Registered Occupational Therapist
Judyth O.Weaver, Ph.D.
Santa Barbara Graduate Institute
Paula Thompson, Psy.D.
Psychologist
Stan Tatkin, Psy.D.
Psychotherapist
Transcripts
These interviews were conducted with people who appear in the video.
Marcy Axness, Ph.D. – Adoption Specialist
Jane Wheatley-Crosbie, M.S.W., LCSW – Psychotherapist
Marti Glenn, Ph.D. – Santa Barbara Graduate Institute
Don Dorsey, Ed.D – University Ca Northridge
B. Bryan Post, Ph.D., LCSW – Post Center for Family-Centered Therapy
Jeanne Du Rivage, MA, OTR – Registered Occupational Therapist